Intro
Launching a private marketplace for art collectors
Art X is a private marketplace that makes it easier for collectors to buy and sell art, by eliminating many of the fees typically associated with art sales and speeding up the entire process.
The traditional process of buying and selling art is slow and rife with fees. Selling through a gallery can sometimes take years. Auctions are faster, but the fees can be as high as 25%. ArtX has no fees for sellers and buyers pay 6%, well below the cost of galleries and auctions.
To enable this functionality, ArtX has a custom CMS for sellers to list their pieces. It also has identity verification, anonymous sales and purchases, custom watermarking, and integrated payments.
"Saleem helped me refine my idea and built a viable prototype in a matter of weeks. In less than two months we had a product ready for launch. Saleem's persistent support throughout development and launch was always fast and consistent; This project would have been impossible without him"
Carlos Rivera
Founder of ArtX and Levart
Project Overview
ArtX was founded by Carlos Rivera, a premier figure in the world of fine art and a serial entrepreneur. He is also the founder of ArtRank a company that provides data driven recommendations about buying and selling, and Levart a company that allows collectors to take out loans using their pieces as collateral.
The first stage of this project was validation of the idea, which was accomplished by building a prototype in the first three weeks. Once the idea was validated we continued to build out the final product based on the unique needs of art collectors.
Build a marketplace that meets the unique needs of art collectors
Fine art is exclusive, and collectors have unique needs, especially given the high prices of of most transactions. Many sales are based on relationships and other require anonymity, but all require trust, which is difficult to reproduce online. Additionally the fees associated with art sales can be extremely high (up to 25%)
Use technology to facilitate trust between buyers and sellers and to greatly reduce fees associated with transactions
Identity verification is an important component of trust, so it was built into the marketplace using BlockScore, with additional manual verifications of all applications before access is granted to the marketplace.
Sellers also have concerns about unauthorized circulation of images of their pieces. To solve this issue, I created a process that digitally encode each image of each piece with identifying information about the user viewing the image. That way, if any images are circulated, it will be immediately obvious who released the image and appropriate action can be taken.
Art buyers also require the ability to perform due diligence before completing a sale. To facilitate this due diligence, I created a process that allows a buyer to put a piece on hold for 24 hours using a fully refundable 10% deposit. This gives the buyer time to perform due diligence on the piece and communicate anonymously with the buyer before completing the purchase.
When the payment is completed, the money is placed in escrow until the piece can be inspected and the physical transfer of the work can be completed
ArtX was successfully launched
ArtX is the first platform of it's kind, with technology that creates trust and securely processes payments without revealing information about buyers and sellers.
Art Discovery
Because of the built in identity verification features, creating a seller account is a quick process, and once completed, Art X makes it easy to list pieces for sale. Buyers can browse, make offers on pieces their interested in, pay a deposit, perform due diligence, and complete their purchase, all from within the site. The custom digital watermarking helps protect sellers from having their works distributed without permission.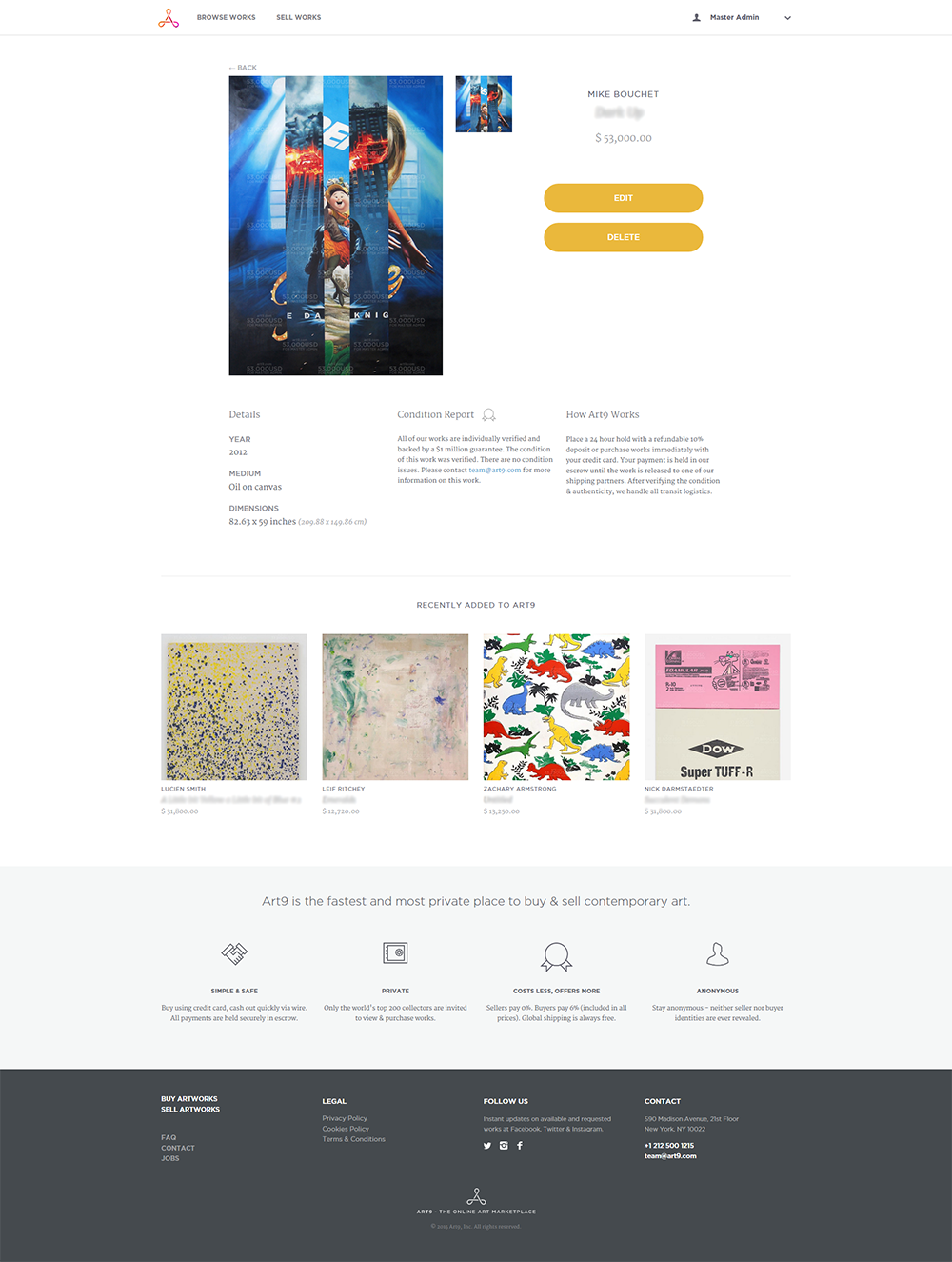 Deposits & Payments
Deposits and payments can be made directly on the site using the buyer's credit card.
Next Case